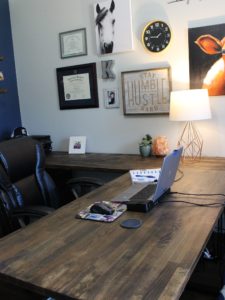 I've been working from home now for almost 4 years now. I went from coffee chats, group walks, happy hours, chili cookoffs, and bagel Friday's to an office of one. When people ask what office I work in, I joke that I'm the Wake Forest office…. of one. Thankfully when my husband was offered an opportunity in Raleigh with his company, we saw it as the perfect opportunity to take the leap out of the city with our then 2-month-old. My company agreed to let me work remote and the rest is history.
Working from home sounds like a dream, but is it? Ask me on any given day and I'll tell you something different.
Things I love
I'm more productive than ever- I never realized how much time I spent chatting with my coworkers. At the office, I used to work way past 5pm and not even think about it. I now have set office hours and beyond that I'm Mom. I care for my children and I don't feel pressured to stay late.
I have zero commute- I save so much time not sitting in traffic. Time to work out, time to do dishes, time to meal prep, and most importantly, time to spend with my family.
My schedule is flexible- This is by far the best benefit. I have flexibility to get my kids to daycare, doctors' appointments, do laundry, start dinner, or run errands. I can fit these small talks easily in between my schedule. If I need to work more after my set desk hours, then I just do - not a big deal.
I can work anywhere- Yes, anywhere. I can work in my home office, the deck, the porch, the local coffee shop, or anywhere that has Wi-Fi.
I get so much family time- I have two small kids and every minute I spend with them is precious to me. That means I get 2 hours a day back with my kids which over one year equals 22 full days!
I spend less money- Less car maintenance, less clothing costs, less spending money on coffee or lunch with coworkers.
Things I hate
It's so lonely- No interruptions may mean increased productivity, but it also means that it gets lonely for an extrovert like me. Sometimes I feel like it's killing my soul. That sounds dramatic, but it's true. I miss the face to face interactions with people other than my dog. I love talking to people and connecting with them. How to combat it: Find local groups to meet-up with and learn from. For me, that meant joining the American Marketing Association's local chapter. It offers workshops, conferences, and networking events where I can be around like-minded professionals. I also plan to visit to one of our main offices quarterly. Again, I'm so grateful that my employer budgets for this. It's key to maintaining healthy working relationships.
I don't get to shop anymore- My husband will tell you that this hasn't impacted our wallet, but I disagree. I don't spend crazy amounts of money on clothes, shoes, and accessories, but I do miss shopping. I miss participating in fashion trends. When I travel to one of my company's offices, I often get anxious about how to dress since I have no clue what business attire is anymore. I can literally wear yoga pants and a t-shirt every day. How to combat it: I make myself get dressed like I was going to work at least 3 times a week. This helps my self-esteem and helps me feel normal. As a mom, I don't really have time to shop and guess what the trends are. Stich Fix helps me solve both of these problems. If you haven't heard of it, it's amazing. Stitch Fix is an online styling service that delivers a personalized shopping experience and helps me keep up with fashion. You simply fill out a Style Profile and a personal stylist will hand pick pieces to fit your tastes, needs, and budget—and deliver them directly to your door. Each box contains five items – a mix of clothing, shoes, and accessories for you to try on at home. Keep what you love and send the rest back in a prepaid USPS envelope. Shipping and returns are free—even for exchanges! It's been my lifesaver. If you want to try it, please use my referral link to get $25 off your first box.
Professionally, it can feel like I took a step back. By stepping back, I mean internal politics. Not being in the office, you aren't in-the-know. Anything from rumors to culture shifts to who influences who internally. It's a lot harder to start or even nurture relationships online. How to combat it: Use all of the communication tools at your disposal. This means video, IM, email, phone, mail, etc. I literally set reminders in my calendar to reach out to my colleagues randomly during the month. Just calling to see how their kitchen renovation is doing or how their vacation was helps. Connecting on a personal level and then nurturing it intentionally can help you feel connected. I also join in on office events when I can (e.g., summer picnics or holiday parties).
For me working remotely works for this stage of my life. I'm so grateful for my employer and for this opportunity and gift.